AP Megamenu Module
Prestashop module to build professional megamenu
---
First of all, we would like the thank you for using our work.
Apollotheme - a website where you can find the best Prestashop theme and Extensions as well. We are proud of our professional themes, extensions. With years of experience working on Opensource, we have created number of great extensions for Prestashop like: Ap Prestashop Framework, Ap Prestashop Megamenu Module ...
Apollotheme is also famous for custom work, if you have trouble or help with your website, coding, .... you can find us on Apollotheme.com then we will support you or give you suggestions.
Megamenu sample
---
Demo 1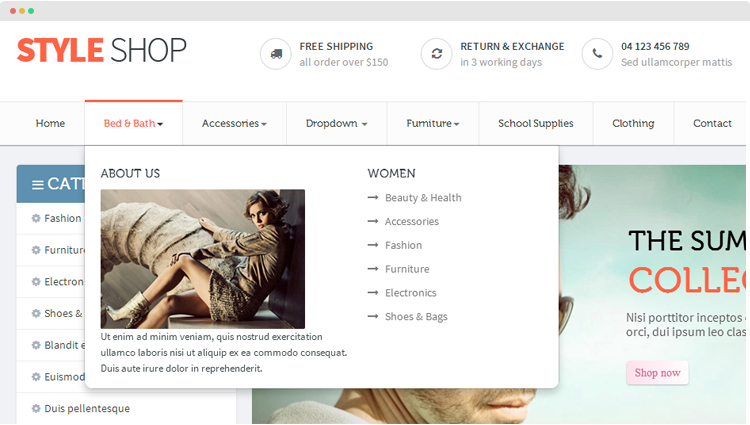 Demo 2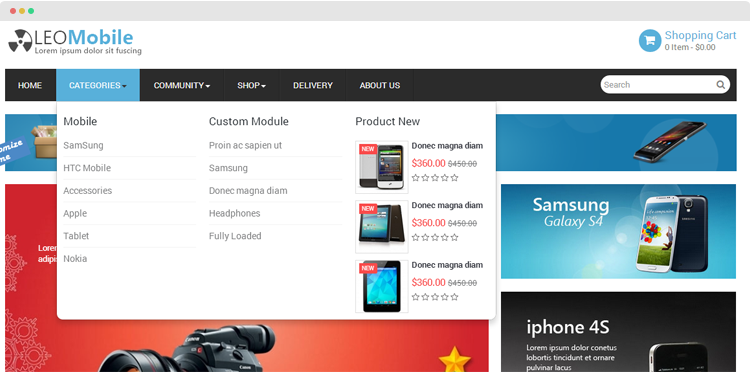 Download and Install
---
Download
Currently, the module will only be included in the pretashop theme that support the module by default. So you have to download the theme package then the module will be there for you to use.
Install
You can install the module as any other pretashop module. If you are new to prestashop, you can check How To Install Prestashop Module Video Tutorial
Publish the module
---
After install the module successfully, go to Modules then search Leo Megamenu module, enable the module then access its configuration panel.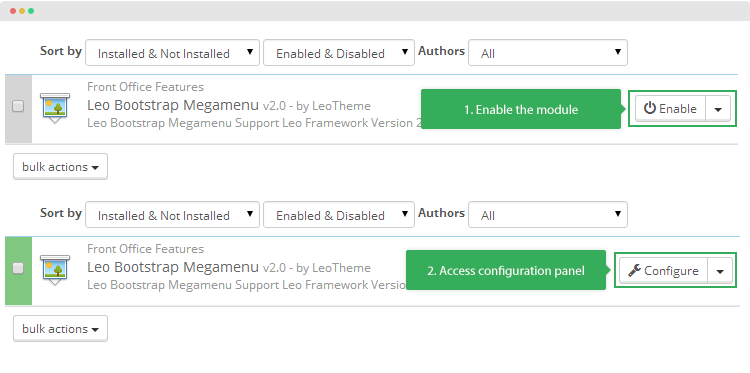 Megamenu live edition tool
---
In the main module configuration, click on "Live edit tools" to open the visual megamenu configuration that allows you configure megamenu easily.

Now configure the Megamenu.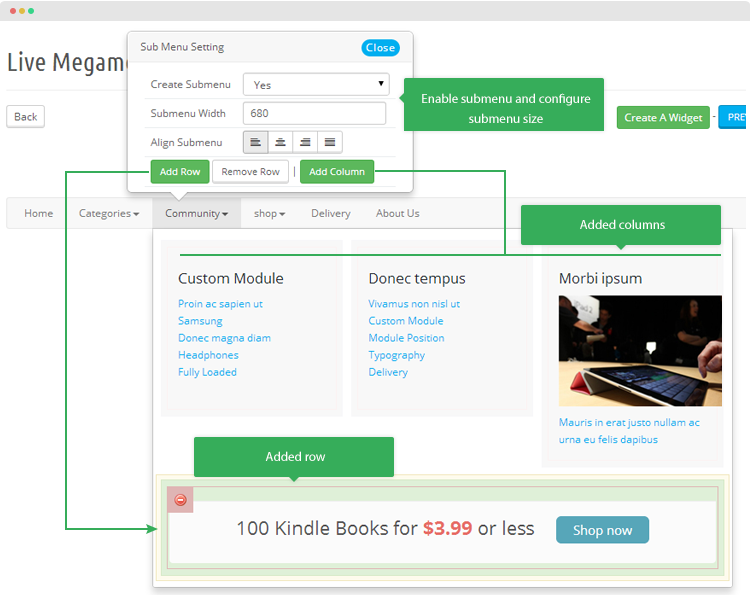 Some steps to create megamenu.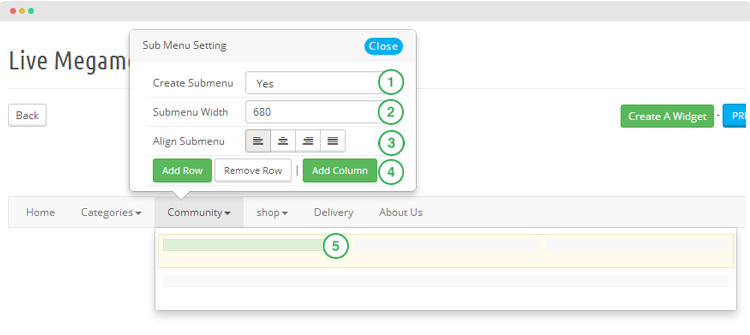 Enable sub-menu
Configure size of sub-menu
Align sub-menu: left, right, center or justify
Add/remove row and column
Assign widget to row and column.
Configure row/column: size and class to style the row/column
1. Column/row settings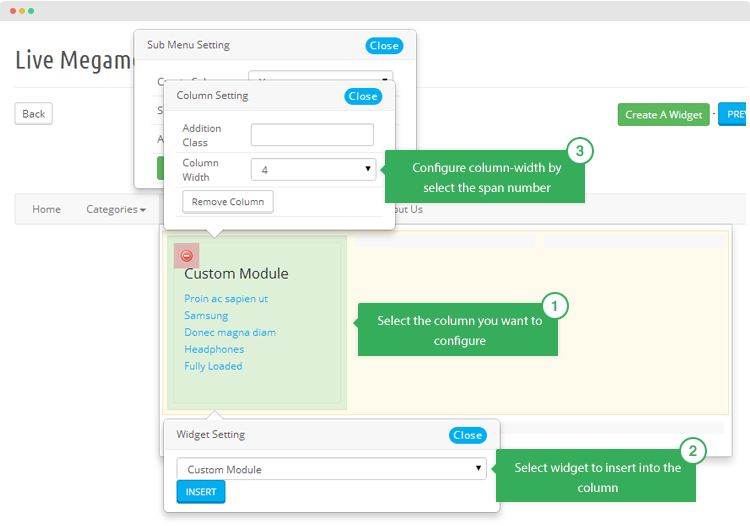 Select the column you want to configure, assign one more many widgets for the clumn then configure the size by set the span number and add class suffix to style for the column if you want.
2. Sub-menu setting
You can create sub-menu for sub-menu item. You can group the menu's sub-menu.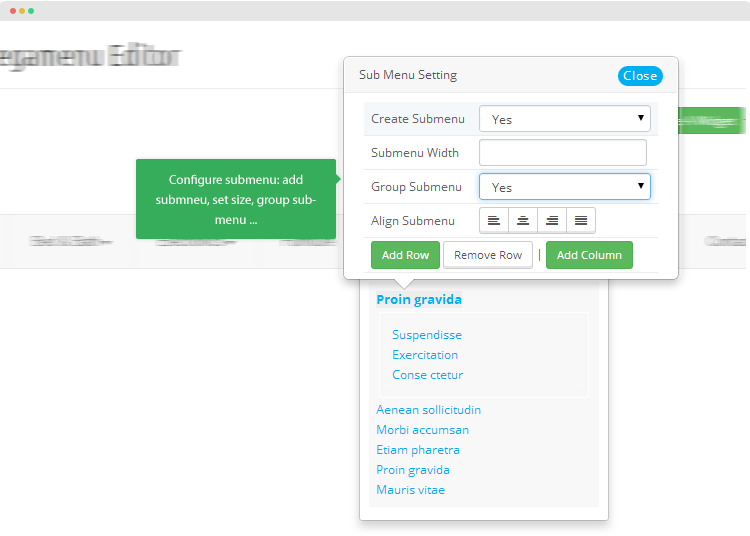 3. Megamnu tools

Parameter explaintation.
Create widget: add widget that can be assigned to any column
Preview on livesite: view how megamenu looks like in front-page
Reset configuration: reset/remove all megamenu configuration.
Save: save megamenu settings
View front-page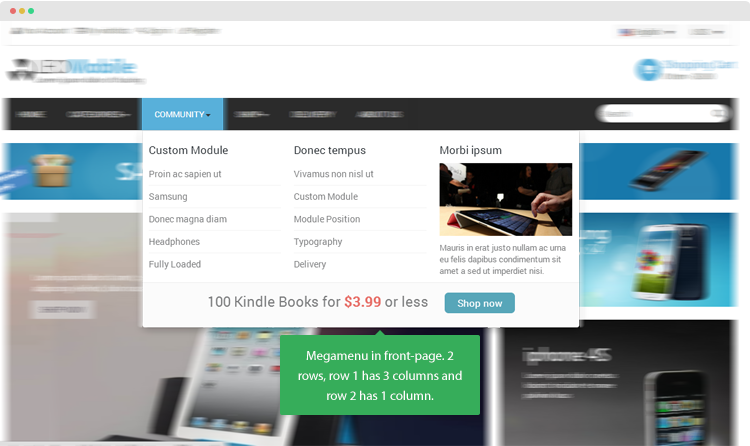 Recommendation
---
To get support, you can raise your issues in our Forum or send us email through the Contact Form or send directly to the following email. We will try to answer and solve problems for you as soon as possible (within 2 days)