How to add a new products in Prestashop 1.6.x
The following tutorial is going to show how to add a new products
---
First of all, we would like the thank you for using our work.
Apollotheme - a website where you can find the best Prestashop theme and Extensions as well. We are proud of our professional themes, extensions. With years of experience working on Opensource, we have created number of great extensions for Prestashop like: Apollo Prestashop Framework, Apollo Prestashop Megamenu Module ...
Apollotheme is also famous for custom work, if you have trouble or help with your website, coding, .... you can find us on Apollotheme.com then we will support you or give you suggestions.
Sample
---
Demo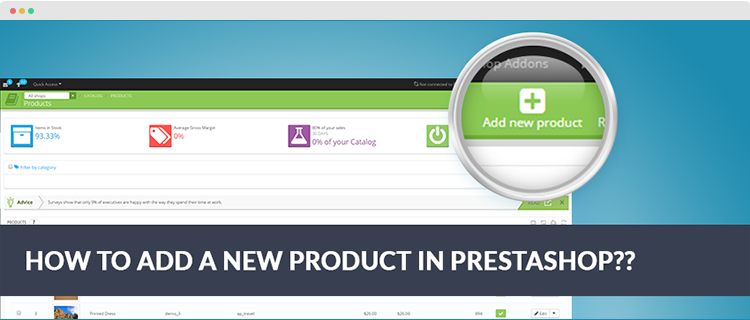 Download and Install
---
Download
Currently, the module will only be included in the pretashop theme that support the module by default. So you have to download the theme package then the module will be there for you to use.
Install
You can install the module as any other pretashop module. If you are new to prestashop, you can check How To Install Prestashop Module Video Tutorial
Step 1
---
Open the admin section, go to Catalog >> Products.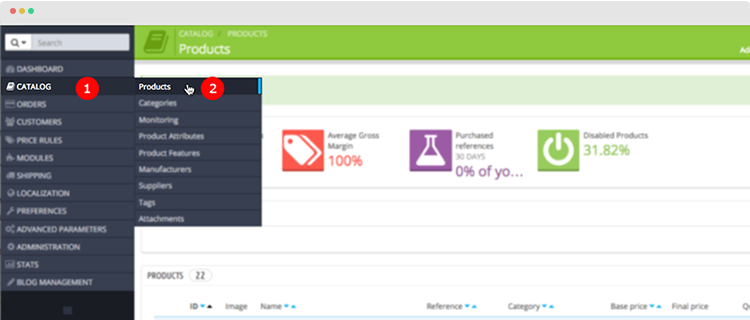 Step 2
---
Click on Add new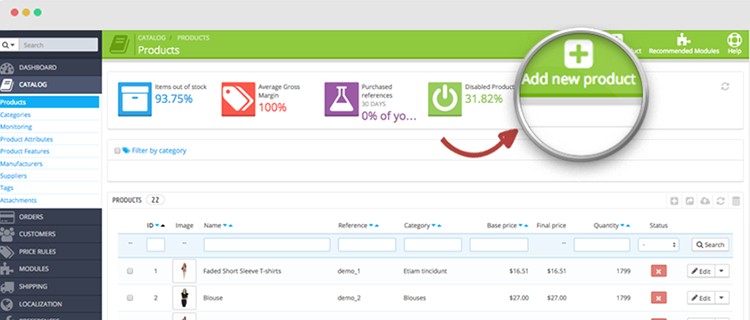 Step 3
---
Specify product type, name and other information, add short and full description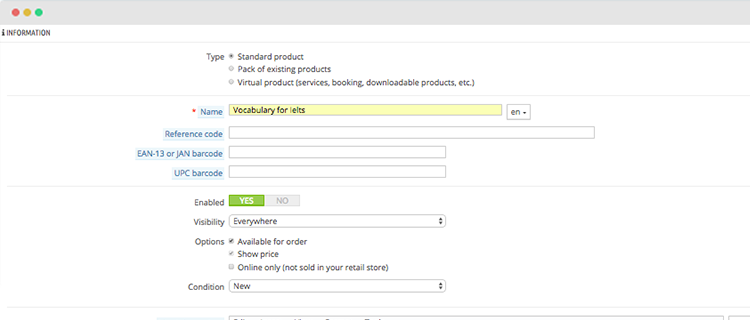 Look for the Contact Details section and edit the title in the Shop Name field the way you like. You can enter other store contact details in the same section as well:
Name : Give your category a name.
Parent Category If you wish to create a subcategory belonging to a category other than the home page, choose the category under
which it will appear.
Root Category You might want to use this new category as the new root category, instead of "Home". If so, check the radio button
that applies.
Description You should fill this field, because not only will it be useful to you or your employees, but some themes might also make use
of it, displaying it to your customers.
Step 4
---
Then, You choose Search Engine Optimization (SEO) . This information will help you improve the visibility of your catalog on search engines.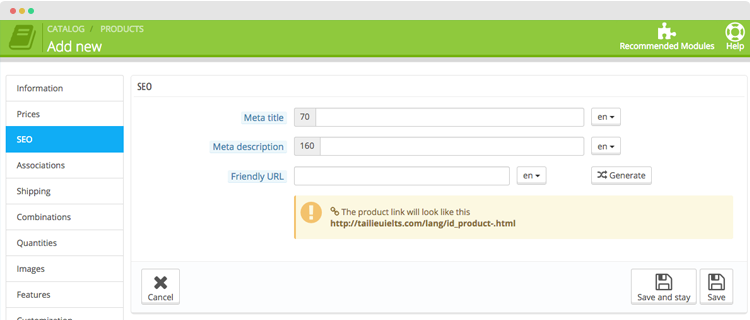 Meta title :The title that will appear on the search engines when a request is made by a customer
Meta description :A presentation of your category in just a few lines, intended to capture a customer's interest. This will appear in
search results
Meta Keywords: Keywords that you must define in order to have your site referenced by search engines. You can enter several of them,
separated by commas, as well as expressions, which must be indicated in quotation marks.
Friendly URL: Enables you to rewrite the addresses of your categories as you wish.
Once you have finished configuring your category, save it, and you are ready to fill it with products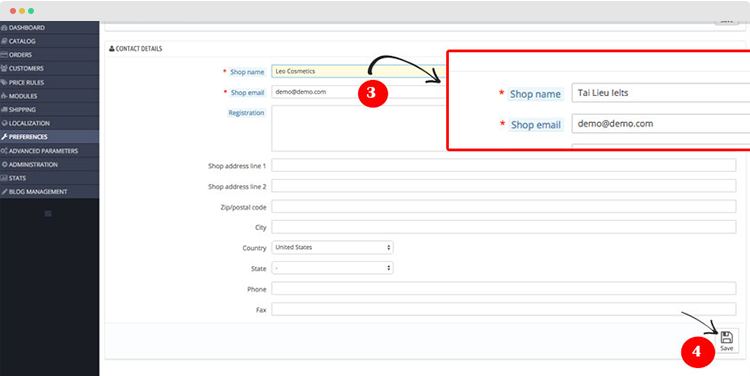 Step 5
---
Specify product status and set prices.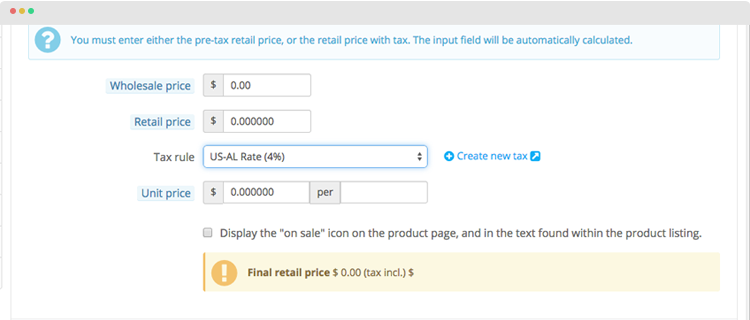 Step 6
---
In the Associations section, you need to select product category. You may also add a new category.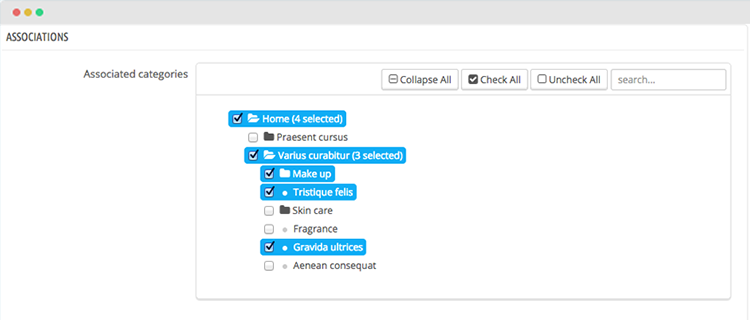 Step 7
---
In Images tab, you can upload a product image. Click on "Add files" to upload an image from your computer which will represent this category.You You can upload additional images as well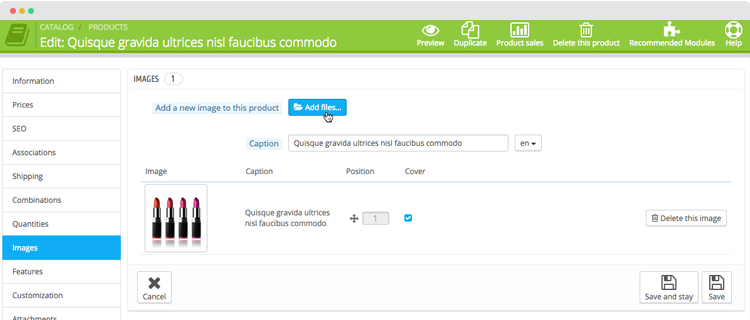 Step 8
---
Set other options where applicable and Save changes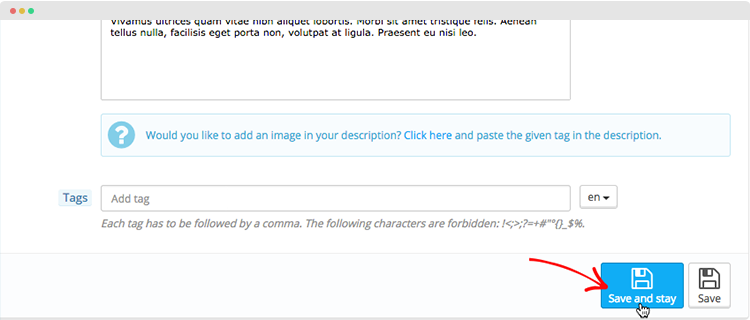 Step 9
---
We have added a new product. You can check it on the screenshot below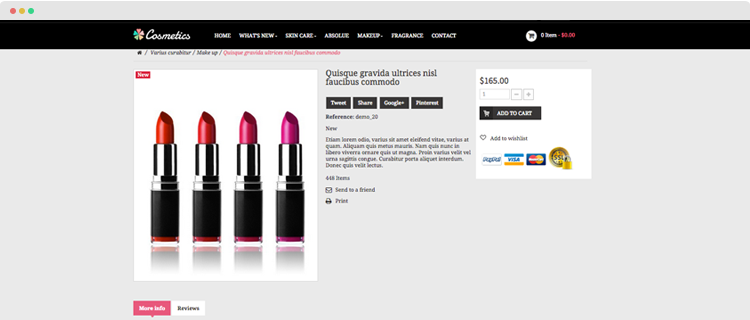 Recommendation
Hope this tutorial is much of help for you while developing your e-Commerce Prestashop site. Forum or send us email through the Contact Form or send directly to the following email. We will try to answer and solve problems for you as soon as possible (within 2 days)